The world of mechanical keyboards is vast and diverse, with choices catering to every possible taste and functionality requirement. Enter the KiiBOOM Phantom 81 V2 – an attempt to marry aesthetics with functionality, offering the allure of a premium typing experience with a futuristic design.
Disclosure: We received the keyboard in exchange for the review. We spent time testing it to make sure the review is honest and unbiased.
Design and Build Quality
The first thing you notice about the Phantom 81 V2 is its pristine, crystal-clear acrylic frame. This minimalistic yet robust design immediately captures attention, serving not just as a keyboard but also as a statement piece for your desk. Backed by a gasket mount and PC mounting plate, its durability is as impressive as its look.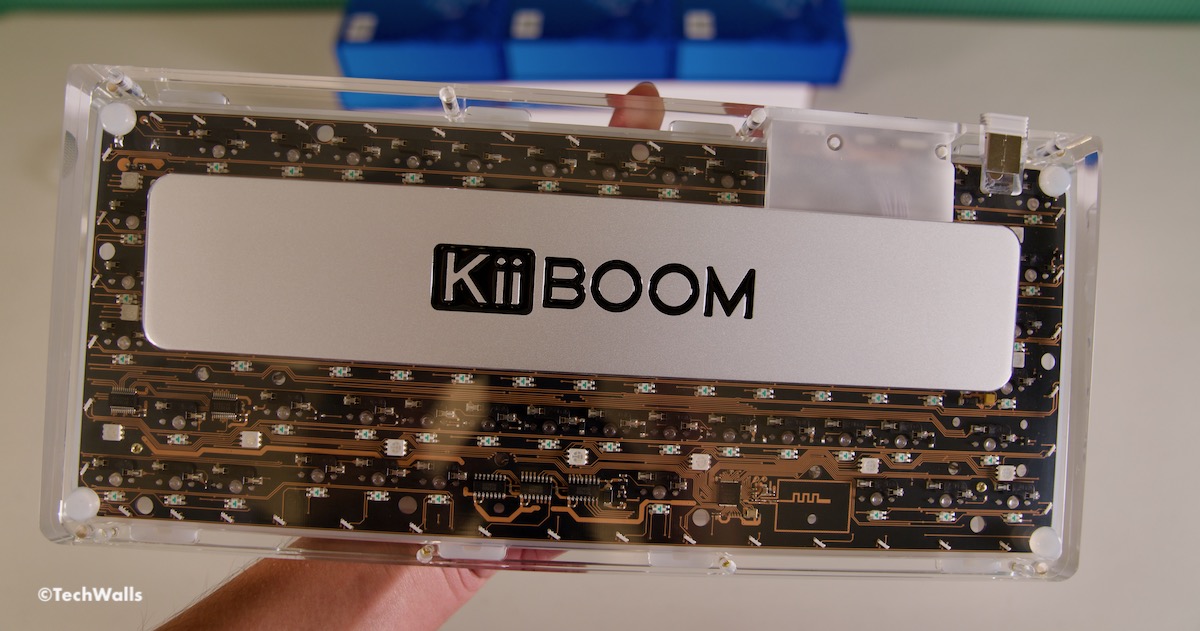 South-facing LEDs provide uniform lighting that beautifies without distracting. For those working across platforms, the Phantom 81 V2 is compatible with both Mac and Windows, ensuring no compromise on functionality.
I also love the metal knob on the top right corner. I often use it to adjust volume on my Mac and I can also press it to open a specific app.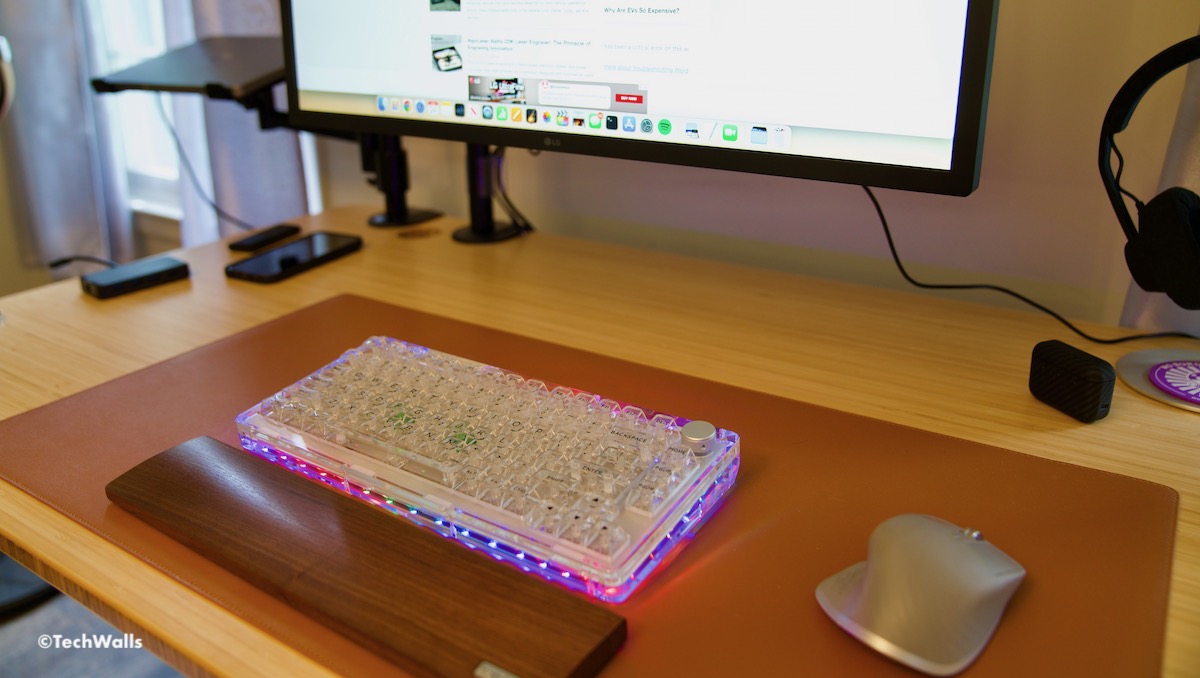 Customization At Its Finest
The heart of the Phantom 81 V2 is its colored PCB which incorporates hot-swapping technology. This is a game-changer for those who love to personalize their typing experience. Coupled with easy-to-swap plate-mounted stabilizers, every keystroke feels sturdy and consistent. This innovation ensures that the keyboard doesn't just look unique; it feels unique.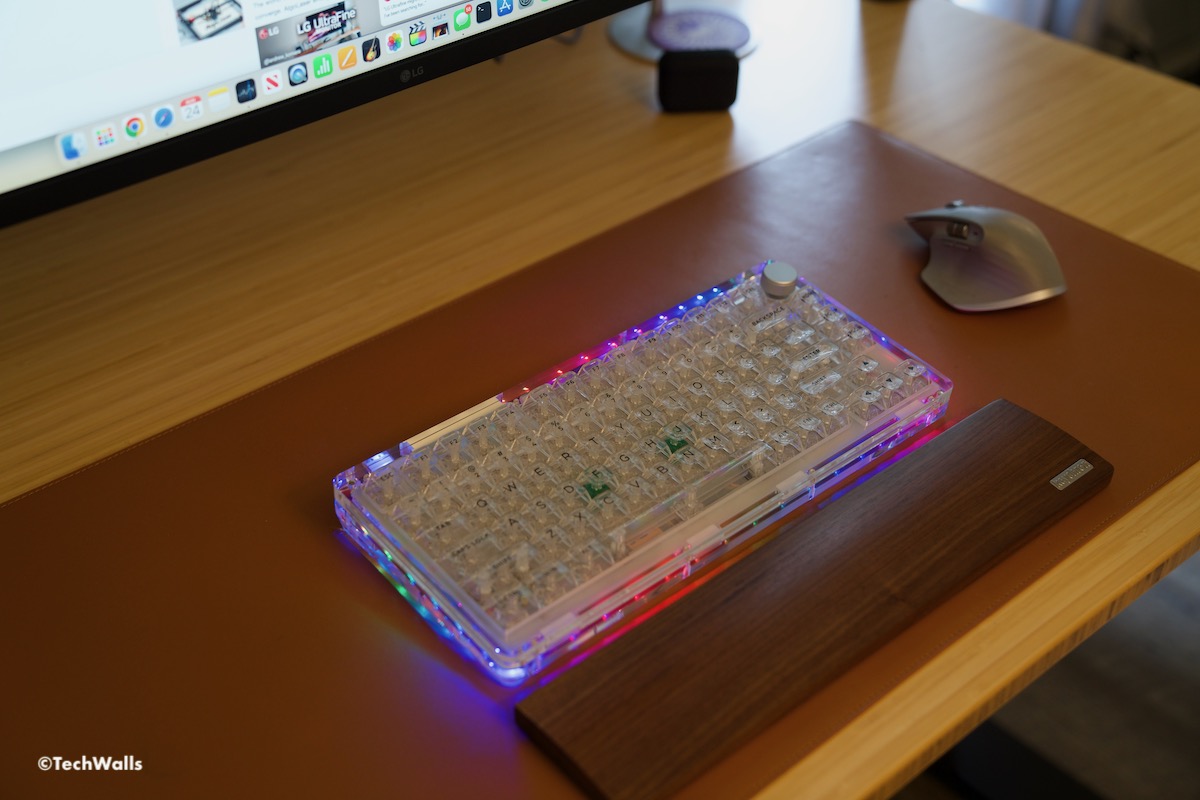 Connectivity Prowess
With three connection modes – Type-C Wired, Bluetooth 5.0, and 2.4GHz, the Phantom 81 V2 showcases versatility in its truest sense. Whether you're gaming or working on a presentation, the keyboard ensures optimal connectivity. Plus, with a 4,000mAh battery, you're set for long hours without a charge break. I used the keyboard every day and didn't have to recharge it after 3 weeks of normal use.
Performance
On the performance front, the Phantom 81 V2 excels. It's not just about the aesthetics; it delivers an outstanding typing experience with the linear KiiBOOM Crystal switches. The integration of an upgraded PC plate with the gasket mount system truly shines when you start typing. Each keystroke is cushioned, producing a soft yet consistent feedback. The sound it generates is a treat for the ears, and the feel ensures minimal hand fatigue even after hours of typing. Just make sure to use a wrist rest with this keyboard because the front is fairly thick.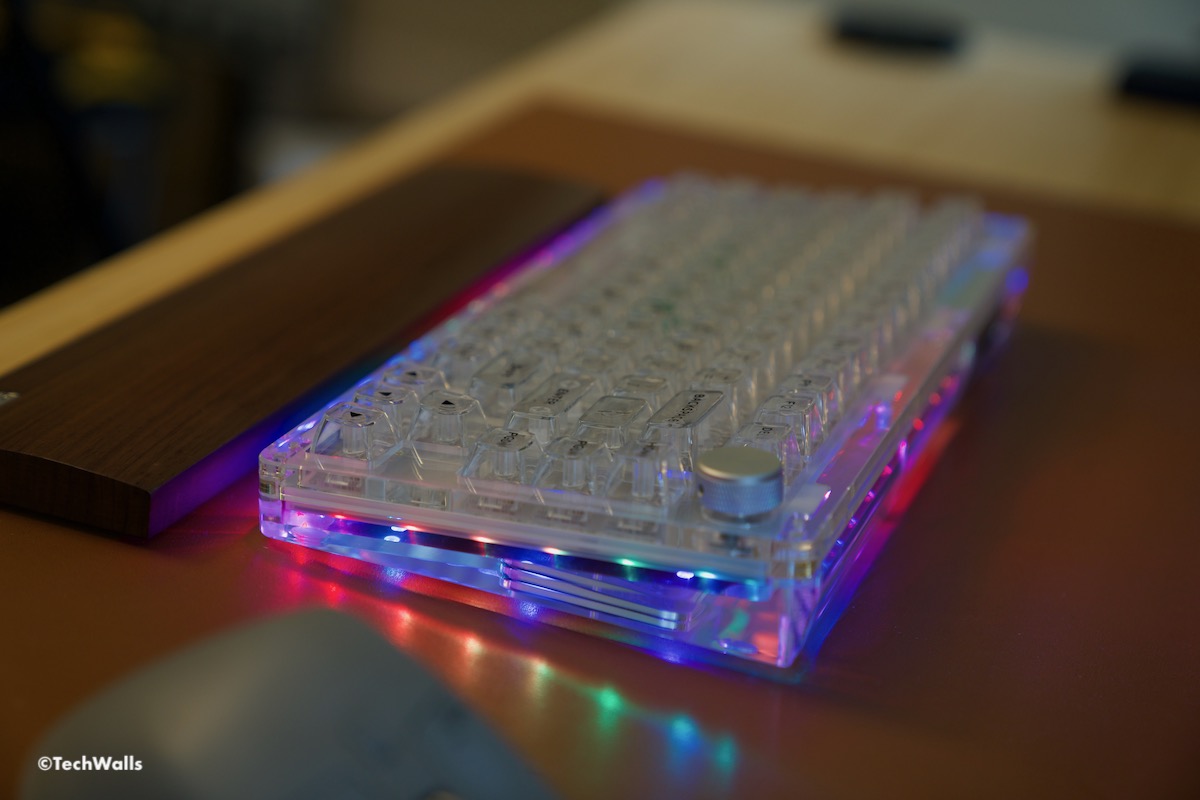 The wireless connectivity is fast and reliable, and the battery life, especially with RGB turned off, is commendable. I also love that the RGB light is turned off automatically after about 30 seconds of inactivity; This is really helpful to preserve battery life.
Is It Worth The Price Tag?
Priced at $159, the Phantom 81 V2 offers value, given its features and performance. The acrylic case and keycaps are eye-catching, and the gold accents add a touch of luxury. Weighing over 3.25 pounds, its build quality is undeniable.
The keycaps, made of thick polycarbonate, have a delightful feel. The switches, aptly named KiiBOOM Crystals, are designed for a smooth typing experience with impressive actuation force.
In Conclusion
The KiiBOOM Phantom 81 V2 makes a grand entry into the mechanical keyboard world. It's a blend of aesthetics, durability, and performance that many keyboards aspire to achieve but often fall short. If you are looking for a see-through wireless mechanical keyboard, there are just a few options out there. Whether you're a hardcore gamer, a writer, or someone who appreciates good design, the Phantom 81 V2 has something for you. At its price point, it promises and delivers a truly premium experience.
Disclosure: We might earn commission from qualifying purchases. The commission help keep the rest of my content free, so thank you!