Epomaker is a very young brand in the mechanical keyboard industry. They are well-known for providing feature-packed keyboards with affordable pricing that ships worldwide. I have a chance to test out some of their new keyboards and share my thoughts in this review.
Disclosure: This product was provided to me by an affiliate of Epomaker for review purposes.
Epomaker RT100
The Epomaker RT100 comes well-packaged in a white cardboard box, providing a user manual, a high-quality USB-C to USB-A cable, and a handy tool that serves as both a keycap and switch puller. It evokes a sense of nostalgia with its throwback to early office keyboards. The thoughtful placement of the USB-C port, wireless switches, and LED indicators show attention to user needs. Its robust feel and retractable feet with anti-skid rubber pads further emphasize its quality build. The full RGB LED backlighting is vibrant, offering a plethora of customizable lighting effects. The only design oversight is the glossy black plastic knob, which not only feels cheap but also seems out of place against the rest of the keyboard's aesthetic.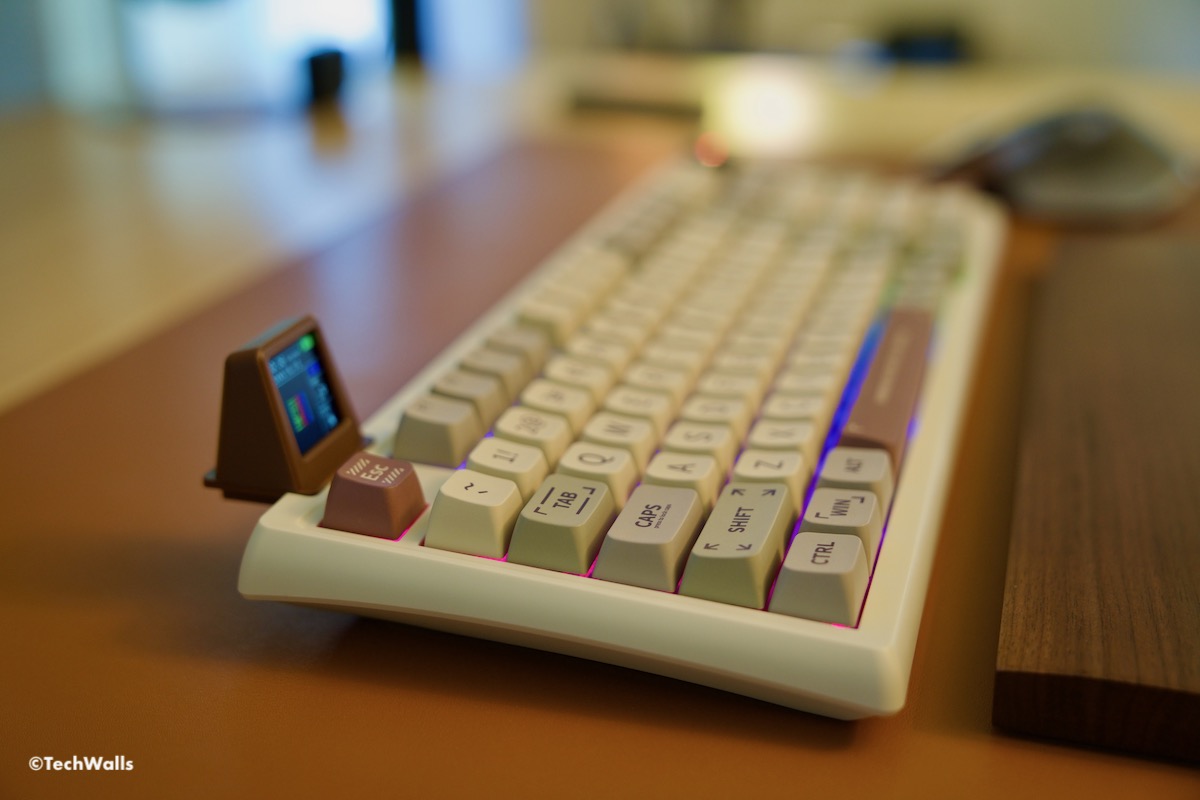 The most impressive feature of the keyboard is a removable mini TV which looks like a CRT monitor that we used decades ago. The display is supposed to monitor system parameters like CPU usage, temperature, battery level, date and time, etc. However, this is more like a gimmick and I don't find it useful at all. The CPU usage and temperature even don't work and always show 0. On the other hand, the date and time are also incorrect here. The keyboard layout can pose challenges, especially with the awkward placement of the Delete key. On the plus side, the gasket mount design, poron foam, and bottom case foam contribute to a decent typing experience, though the sound profile might not appeal to everyone.
My keyboard comes with Sea Salt Silent Switches and they are incredibly silent. The typing sound level is just equal to the one on my laptop. It is not really satisfying because it doesn't provide enough tactile feedback as I expected. However, this is ideal for anyone looking for a keyboard for an open office, a shared workspace, or at home with your family. The high MDA profile PBT keycaps are of solid quality, though they may not cater to everyone's tastes.
Epomaker TH80 Pro
The Epomaker TH80 Pro arrives with a manual detailing its functions, a well-crafted white USB-C cable, and a combined switch/keycap puller – a thoughtful addition for those who anticipate modifying their keyboard setup. At a glance, the TH80 promises quality without breaking the bank.
The TH80 strikes an immediate impression with its sleek white finish. The presence of a knob adds a dash of functionality with a touch of aesthetic flair. The stock keycaps are impressive, made of durable PBT plastic with dye-sub printing. A month of rigorous use showed no signs of wear or shine. The unique MDA profile contributes to an enjoyable typing experience, both in terms of feel and acoustics.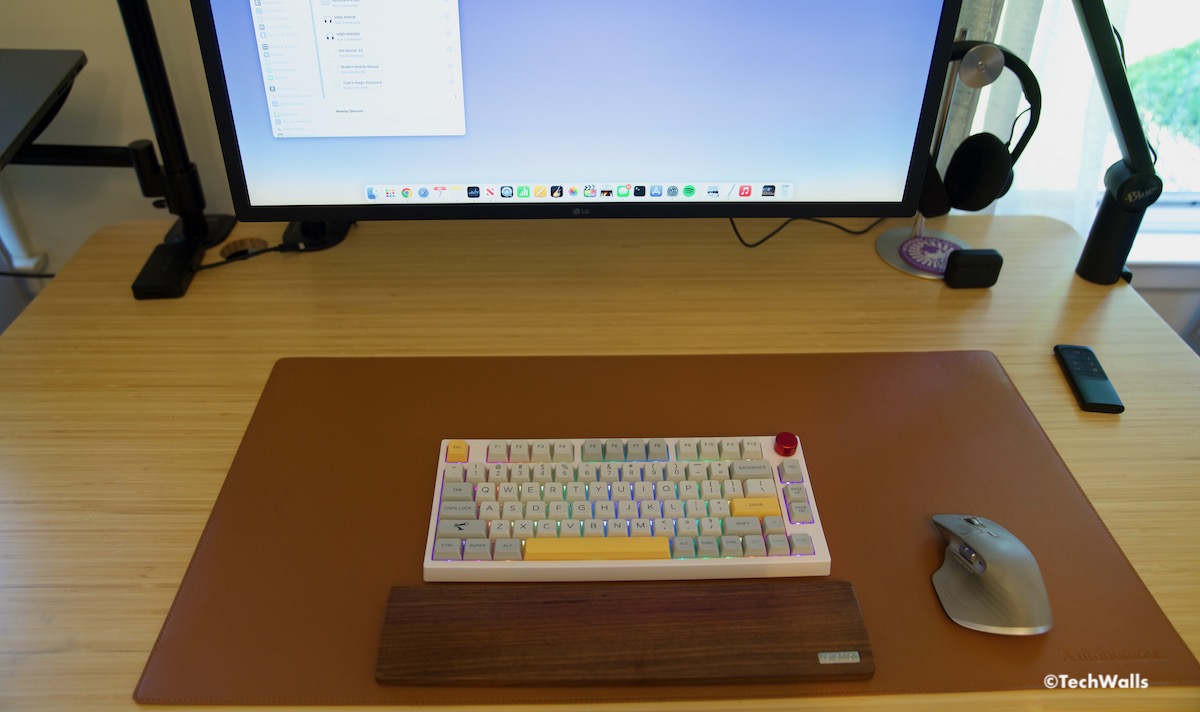 My keyboard comes with Epomaker Flamingo Switch; The linear switches are fast but not really satisfying for typing but gamers might appreciate them.
The TH80 offers versatile connection options: wired, 2.4 GHz wireless, or Bluetooth 5.0. The low-latency wireless functionality is a commendable addition at this price point. A minor gripe is the loosely-fitting USB storage slot, which could pose issues during travel.
Shifting from the north-facing LEDs, the TH80 goes full south-facing, a delight for RGB enthusiasts and Cherry profile keycap owners. In-board RGB tweaking, sans the need for additional drivers, is a convenient touch.
Epomaker Shadow-X
The EPOMAKER Shadow-X emerges as a unique player in the vast sea of keyboards with its 70% (FRLTKL – function row-less tenkeyless) gasket-mounted design. Priced competitively at $85, this pre-built beauty offers a harmonious blend of design elegance, robust functionality, and versatility.
With switch options like the Epomaker Flamingo, Gateron Pro Yellow, Epomaker Budgerigar, and Epomaker Bluebird, users are spoilt for choice. In terms of design and build, despite its plastic composition, the keyboard exudes an aluminum-like charm, weighing in at a solid 900 grams. The Shadow-X stands out not just in build, but also in design aesthetics with significant head and chin bezels. Adding to its unique character are features like a rotary knob and an LCD screen neatly placed above the arrow cluster. The knob is for switching between connection modes only and we can't use it for volume control.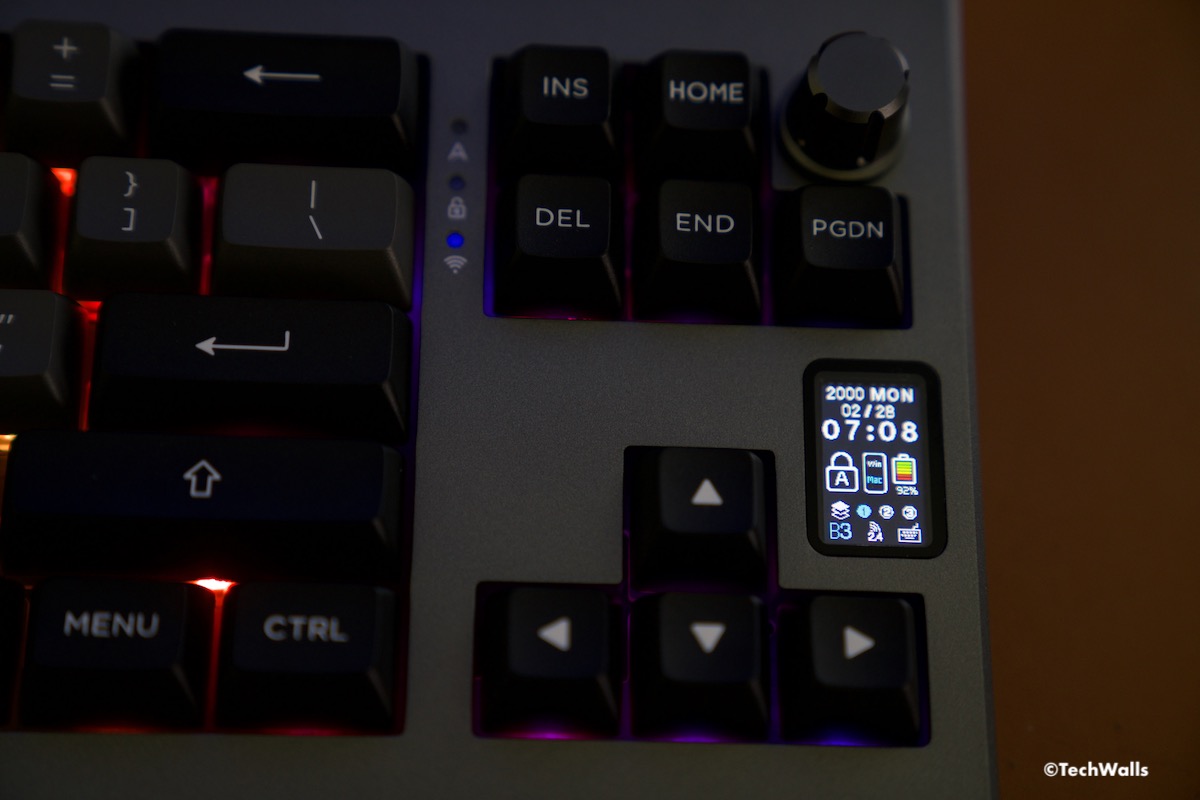 The connectivity arena is where the Shadow-X truly flexes its versatility, offering wired, Bluetooth, and 2.4GHz wireless options. The keyboard is adorned with XDA profile keycaps made of durable PBT plastic, ensuring a delightful typing experience. For those looking to add a touch of vibrancy, Epomaker generously includes yellow accent keycaps.
Diving into the typing experience, the gasket-mounted design combined with a PCB and PC plate nestled between a poron layer ensures typing comfort. Although the flex may not be as pronounced as some enthusiasts might prefer, the board compensates with a rich, muted stock sound, which leans towards the lower frequencies.
While the Shadow-X Driver software offers a plethora of customization options, from screen display to key functions, its somewhat clunky nature indicates room for improvement. A remarkable feature worth noting is the Shadow-X's inherent ability to automatically detect and adjust to the connected OS, be it Mac or Windows.
All of these 3 keyboards have their own unique features and they have very attractive price points as compared to other mechanical keyboards on the market. You can't go wrong with any of them.
Disclosure: We might earn commission from qualifying purchases. The commission help keep the rest of my content free, so thank you!