As an experienced ODM manufacturer, CE-LINK has demonstrated its expertise in producing versatile power solutions, with the launch of its new high-capacity CE-LINK 3,000W Portable Power Station. I have used the product for over a month and I'm really impressed with its power and performance.
Specifications
Weight
75 lbs (34 kg)
Dimensions
21.1 x 11.9 x 13.5 inches (536 x 303 x 343 mm)
Battery Type
LFP (LiFePO4)
Capacity
2,560Wh, 51.2V
Cycle Life
> 4,000 Cycles
Depth of Discharge (DOD)
90%
USB-A Output (x2)
5V/3A, 9V/2A, 12V/1.5A, Max Power 18W x2
USB-C Output (x2)
5/9/12/15V 3A, 20V 5A, Max Power 100W x2
DC5521 Output (x2)
12.6V/3A
Car Output
12.6V/10A, 126W Max
AC Output
20A AC Output Socket x3: 100-120V (50Hz-60Hz), 2,400W Max Power (Surge 4,400W); In Bypass Mode: 100-120V (50Hz-60Hz), 15A, 1,800W Max Power
25A TT-30 Socket x1: 100-120V (50Hz-60Hz), 25A, 3,000W
AC Input
1,800W Max, 15A
Solar Input
13-45V/12A, 800W Max
Car Charging Input
12V/24V battery supported, 8A default
Discharge Temperature Range
-10~50℃
Charge Temperature Range
0~50℃
Optimal Operating Temperature
20~30℃
Storage Ambient Temperature
-20~45℃
Certification
UL,FCC,ROHS,UN38.3
Wi-Fi
Supported
Battery Expansion
Support up to 6 expansion battery packs
LED Light
Yes
Box Contents
CE-LINK Power Station
AC cable
Car charging cable
Car battery jumper cable
User manual
Portability and Handling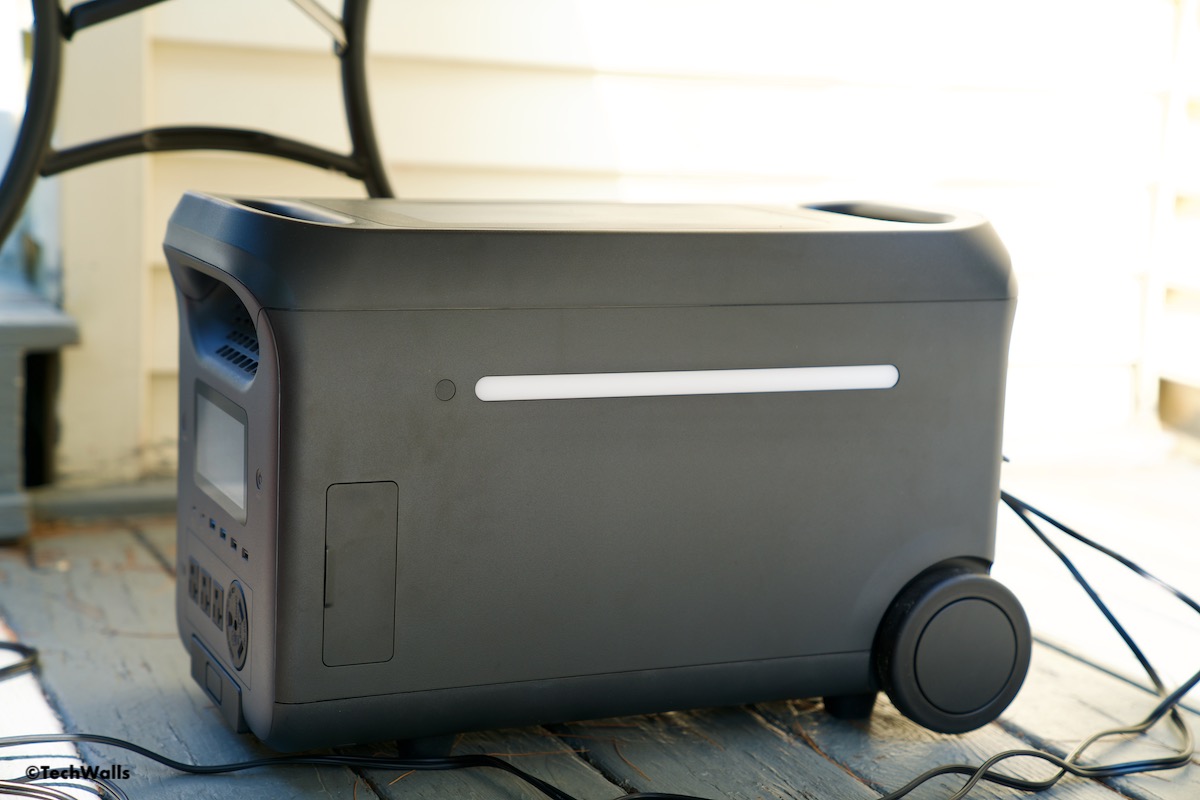 While the CE-LINK's extensive capabilities contribute to a significant weight of 75 lbs, it is thoughtfully designed to enhance portability and handling. It features two handles on top, allowing you and a partner to lift it with relative ease. This design caters to scenarios where the Power Station needs to be lifted onto a higher platform or loaded into a vehicle.
Furthermore, the product is fitted with two durable wheels at the bottom and a convenient pull-out handle. This feature ensures that even a single person can effortlessly move the station around. With the pull-out handle extended, the Power Station can be dragged along the ground, similar to moving a suitcase. This design aspect ensures that despite its substantial weight, the CE-LINK remains a portable solution, providing users with flexibility in various situations, whether it's camping outdoors or moving around within a workspace.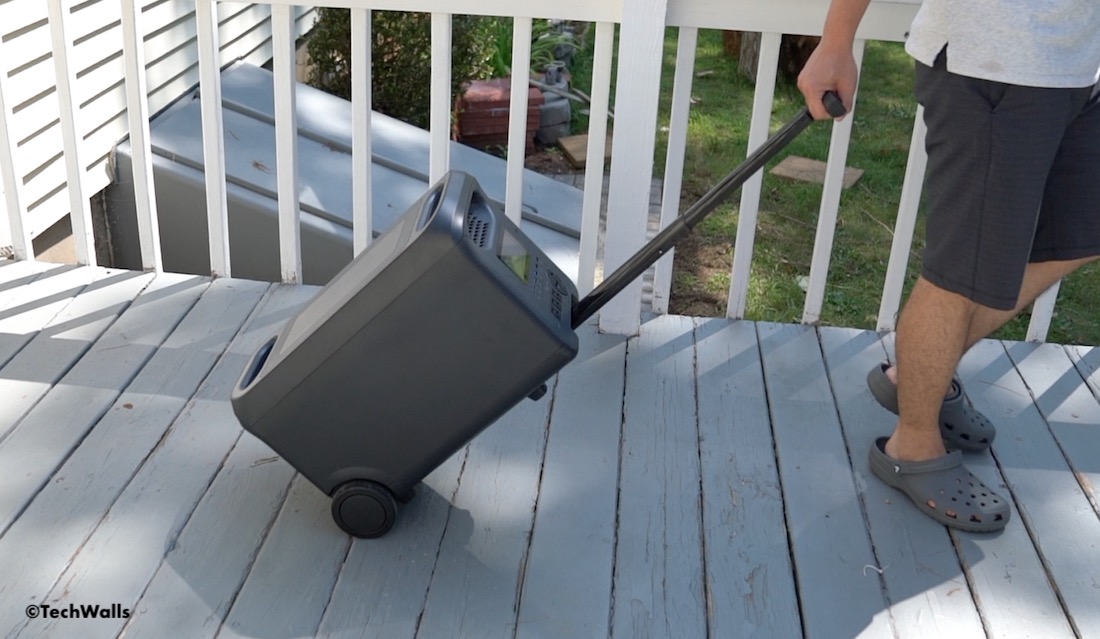 A Blend of Capacity and Expandability
The CE-LINK stands out due to its impressive 2,560Wh rated capacity, which can be expanded up to a whopping 17.9kWh by adding up to six 2.56kWh battery packs. This unique feature facilitates powering of multiple devices, making it a reliable energy resource for camping, emergencies, and outdoor adventures.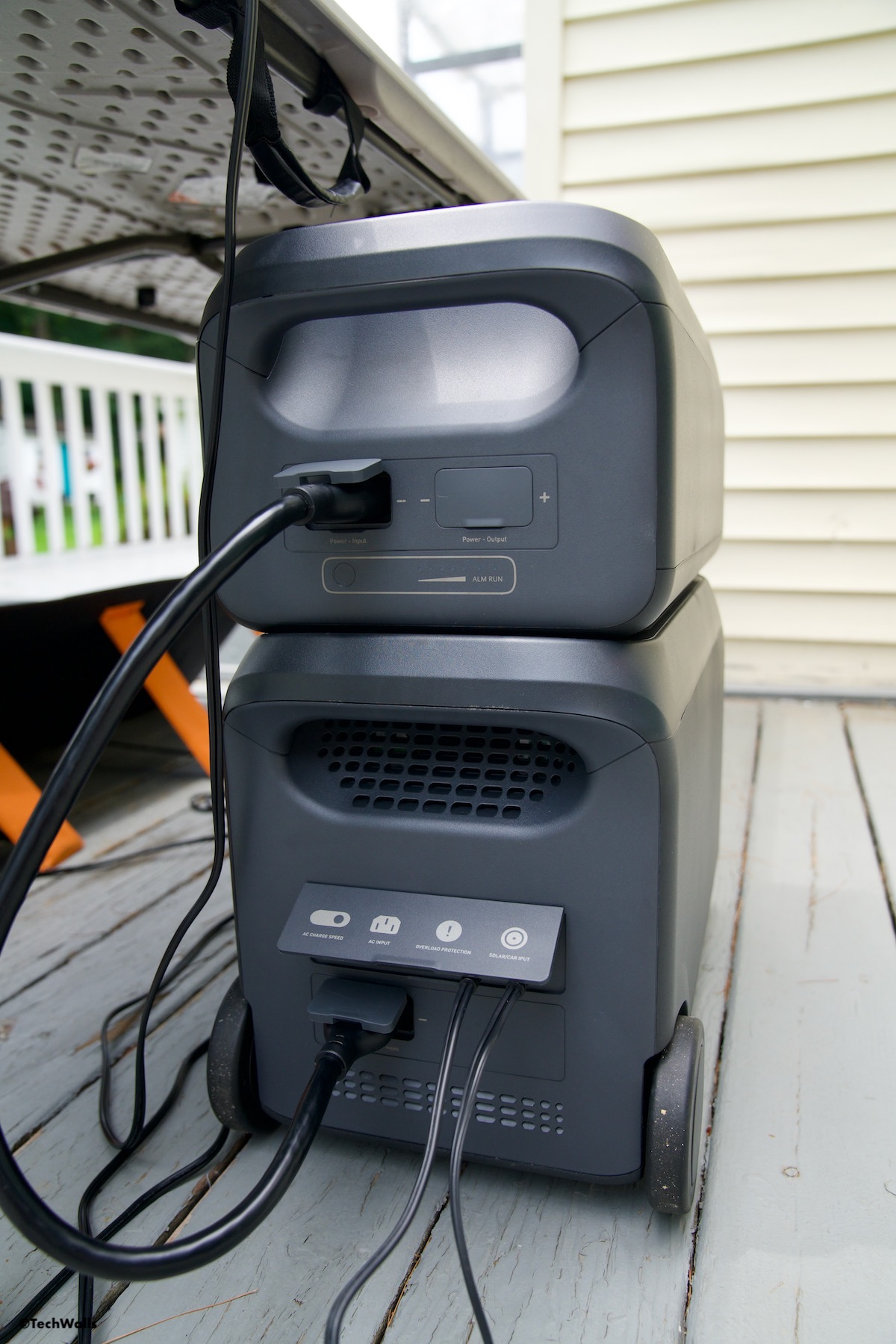 During the test, I've used the power station with an extra battery pack, bringing the total capacity to over 5kWh. The battery pack also features a portable design with two handles and you simply can connect it to the main power station using a provided cable. There is only one button on the expansion pack so that you can turn it off or quickly check the battery level. The SOC (State Of Charge) percentage you see on the display or the app is calculated as an average of the power station and expansion pack.
Diverse Charging Options
Equipped with a variety of charging options, the CE-LINK offers AC and car charging. With a maximum charging power of 1,800W and 15A, it can be fully charged in just 1.6 hours. Additionally, users can opt for combined solar and AC charging, cutting the charging time to 1.2 hours. The car charging option is an added convenience for on-the-go users.
The station goes beyond the ordinary with its two solar input ports, each capable of delivering a 400W power output, totalling a maximum of 800W. This enhances the flexibility of charging options and aligns with green energy practices. The 800W limit is decent but might not be sufficient for heavy power users.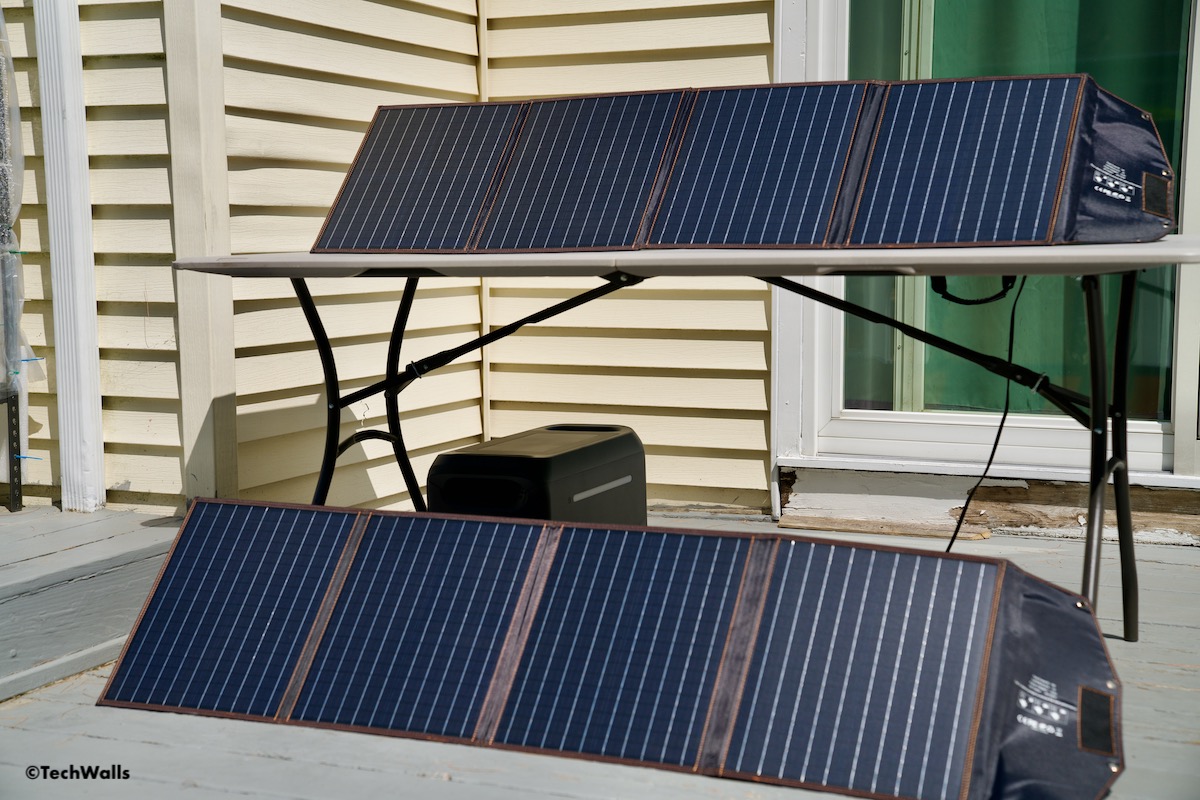 The station incorporates a safety mechanism to ensure product safety and longevity. When I used solar panels with voltage of over 45V, the current was stopped immediately and they didn't charge the battery at all to avoid any damages.
Multiple Output Interfaces and High Power
With its range of output interfaces, including USB-C and USB-A fast charging ports, AC output sockets, and DC outputs, the CE-LINK ensures that you'll never be short of power during a weekend camping trip or an outdoor gathering. Coupled with a rated AC output power of 2,400W and peak output power of 4,400W, it ensures stable and efficient power output. Notably, there is a NEMA TT-30 outlet which is designed to cater to the needs of RV users and outdoor enthusiasts. It is engineered to deliver 25A of power at 120 volts, providing a consistent and reliable source of electricity for your RV's essential devices and appliances. You can also use the outlet to charge your EV faster.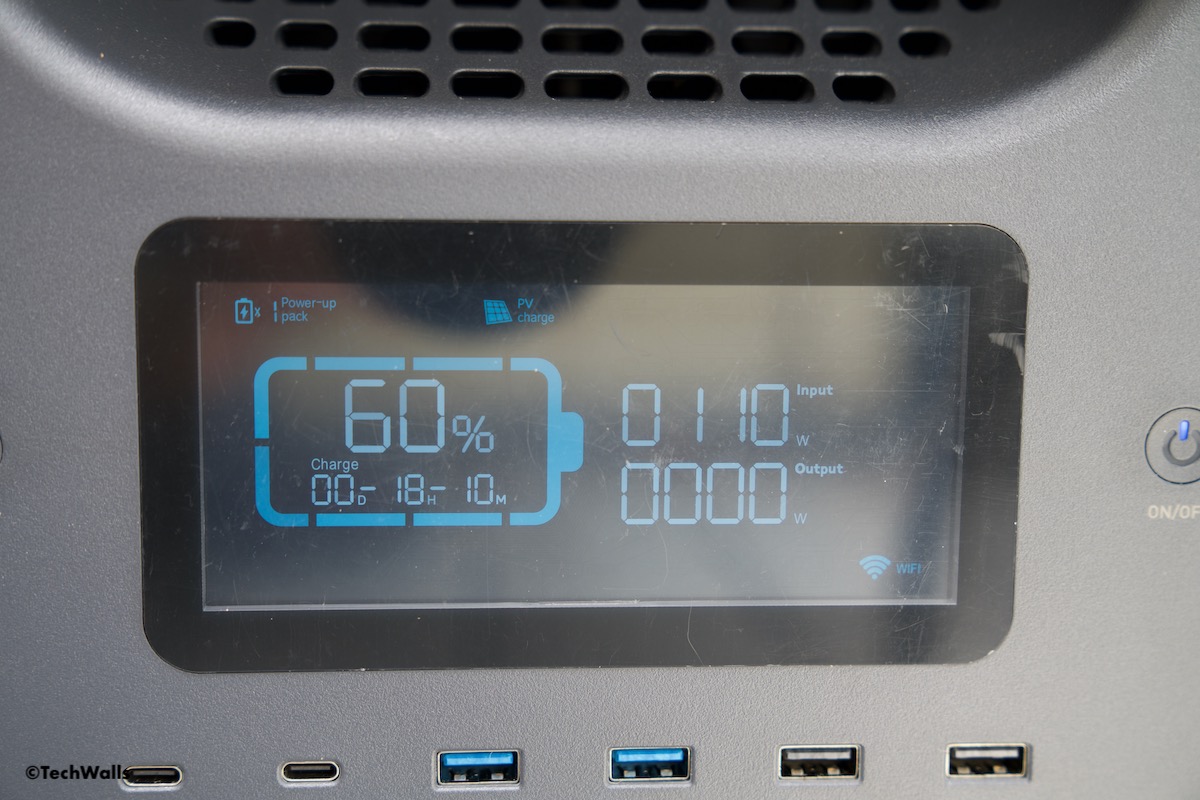 Reliable Industry Certification
Designed with user safety in mind, the CE-LINK features eight dual or multiple protection mechanisms and DSP calculation capabilities to ensure device longevity and prevent potential damages. A built-in Battery Management System (BMS) ensures comprehensive protection, preventing potential risks like overcharging or over-discharging.
Using 1×16 series square aluminum shell batteries that comply with UL1973 energy storage battery safety standards, the CE-LINK guarantees safe usage. Its automatic reconnection to the grid after power restoration and bypass function further enhance its reliability, as do its multiple safety standard certifications.
Intuitive App Control
One of the standout features that enhance the user experience with the CE-LINK is the intuitive companion app. The app provides exceptional control over the device's functions, and as a user, it significantly enhances my ability to monitor and manage the power station.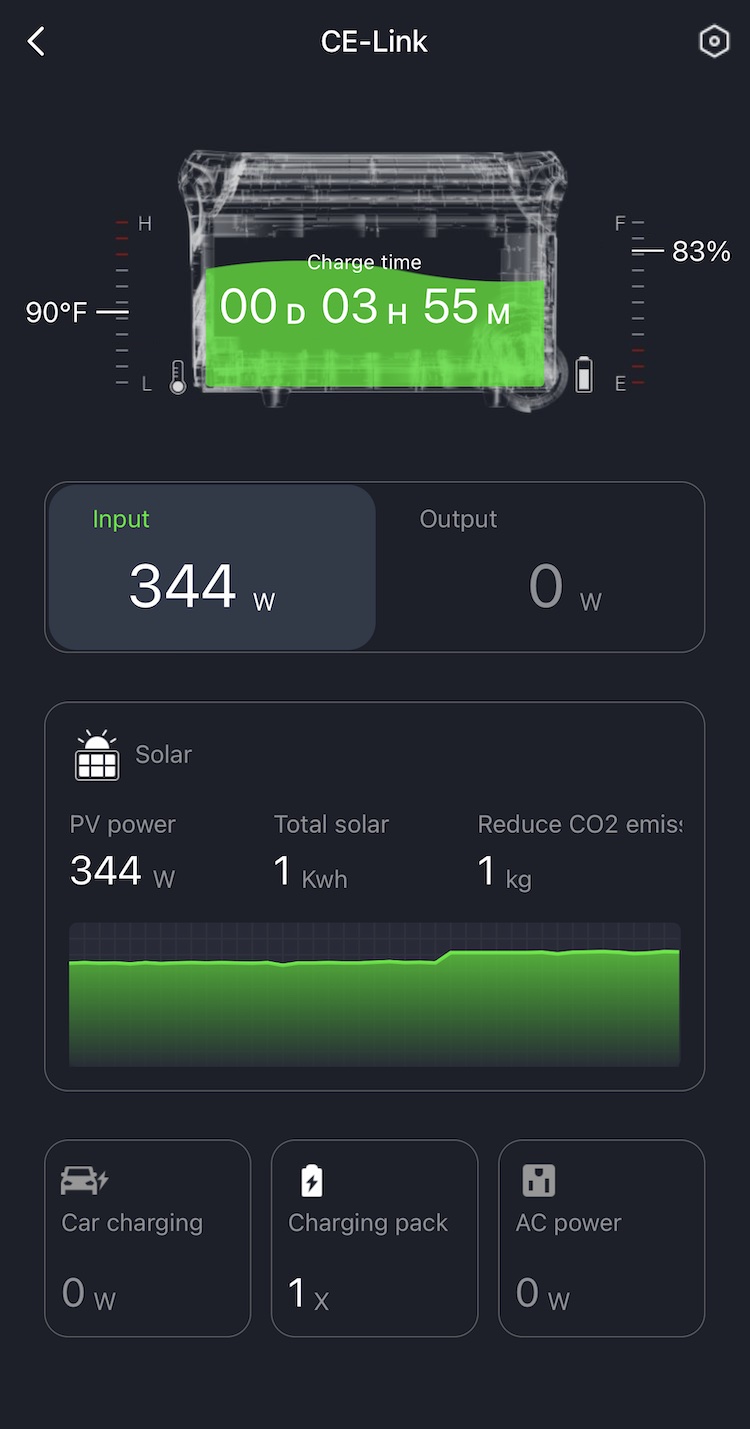 I was particularly impressed with the ability to set charging and discharging limits. This feature is crucial as it allows you to prevent the battery from being completely drained, thereby preserving the battery health in the long run. The app also provides real-time data about the state of all input and output ports, giving a clear overview of the power station's activity at a glance. This helps in efficient power management and ensures that no energy is wasted.
Another handy feature is the ability to set a standby time, which will automatically turn off the power station after a specified period of inactivity. Therefore, you can rest assured that your power station will not be unnecessarily running and draining power when not in use.
However, while the app excels in many areas, it does have one limitation worth noting. It currently lacks the ability to track solar charging history over multiple days/weeks/months. For users who rely heavily on solar charging, this might be a helpful feature to include in future updates, as it would provide a better understanding of charging patterns and efficiency.
Real-Life Performance
During my extensive testing, the power station proved to be an incredible asset in various scenarios. The results speak volumes about the product's reliability, performance, and versatility.
During a power outage, I successfully used the Power Station to power my workstation, including a MacBook, a 27-inch monitor, and a fan. Impressively, the Power Station lasted about two weeks, ensuring my workflow went uninterrupted, despite the external circumstances. The built-in intelligent inertial air cooling system adjusts the fan speed according to the internal temperature, ensuring optimal performance.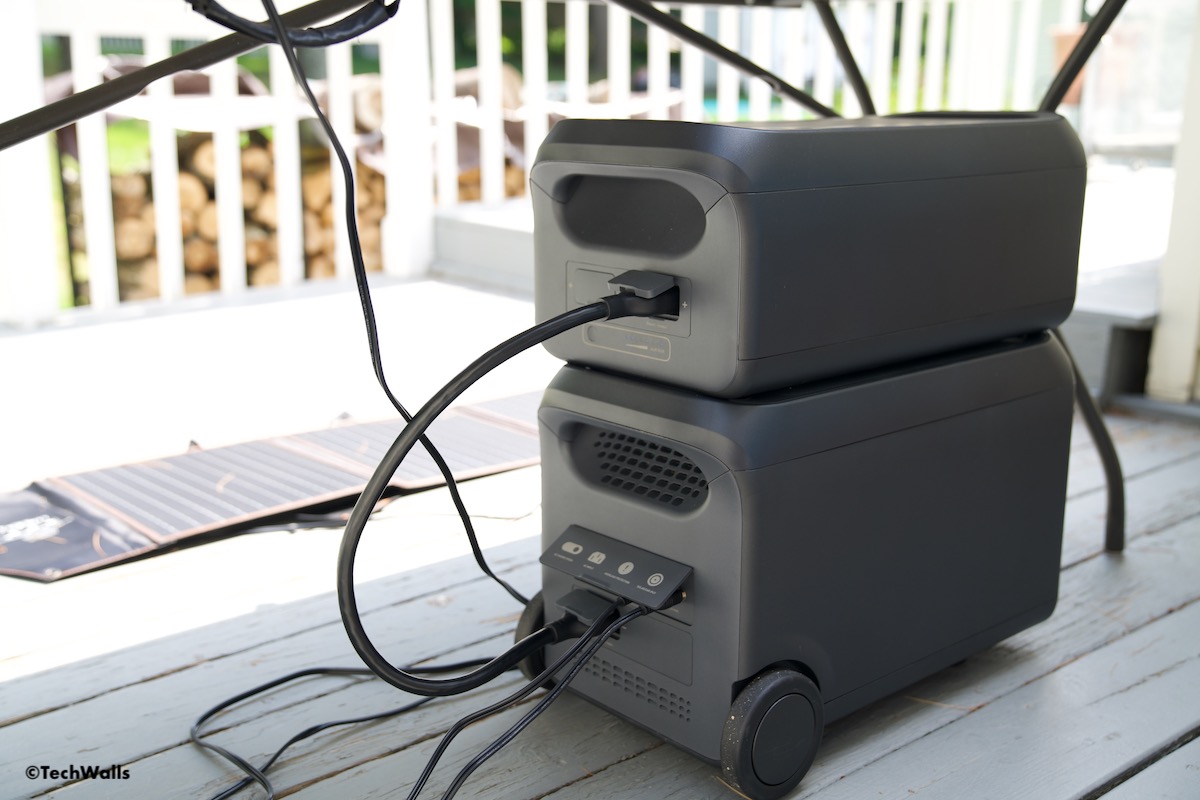 I also found it to be an exceptional power source in my garage, powering an array of power tools such as a miter saw, a shop vac, as well as recharging batteries for my lawn mower and other tools. The Power Station even efficiently handled the recharging of my electric bike, proving its versatility and ample power capacity. Thanks to its 2,400W inverter with a robust 4,400W surge, the Power Station seamlessly performed all these tasks without any hitches.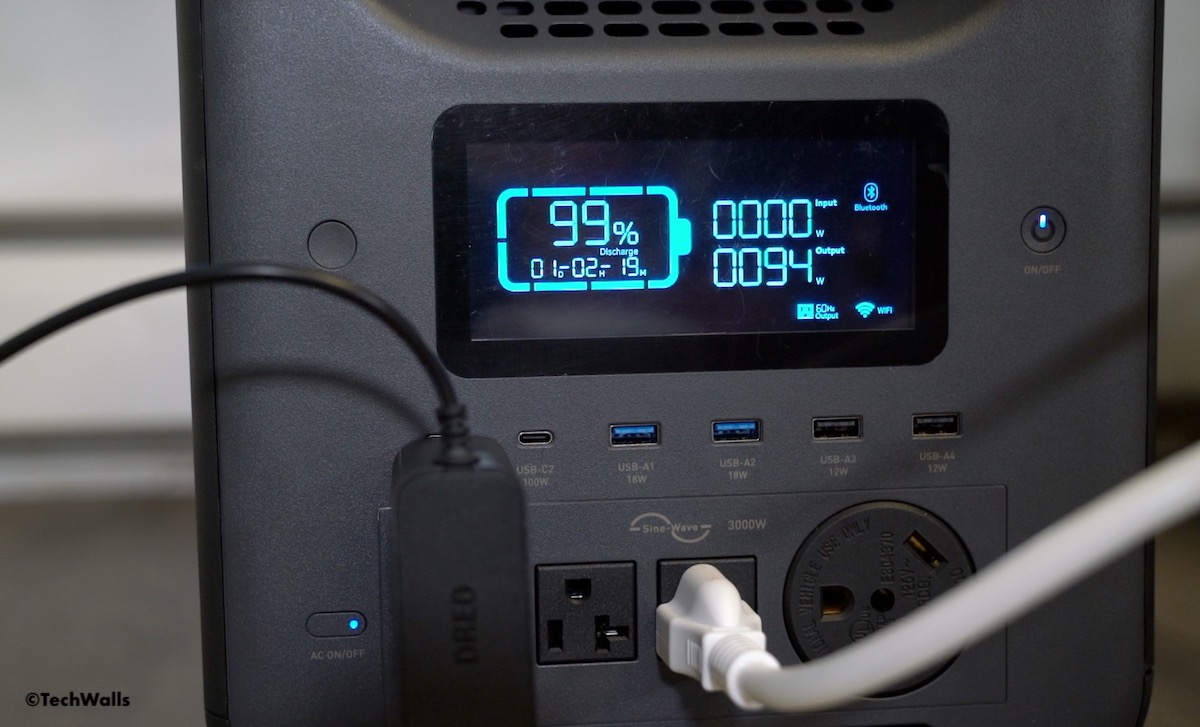 Moreover, the Power Station features the ability to trickle charge a Tesla at 1.7 kW, providing approximately 4 miles per hour. This performance level showcases the impressive energy output this Portable Power Station can deliver. However, a minor limitation is the maximum solar input, which is 800W across the two input ports. While this is sufficient for most standard appliances, it falls short when it comes to recharging a Tesla using solar power.
In real-world terms, the CE-LINK performs impressively across diverse scenarios, demonstrating its reliability and capability as a robust power solution. Whether it's powering your home workstation or your garage power tools, or even trickle charging an electric vehicle, this Power Station is equipped to handle it all. Its performance remains consistent across all tasks, making it a highly reliable and versatile power source for all your needs.
Market Availability and Pricing
While the Power Station is soon to hit the United States market, its distribution will follow an OEM or ODM arrangement. This unique approach means that the pricing will be based on OEM or ODM agreements rather than conventional end-consumer pricing. This strategy emphasizes the Power Station's suitability for businesses in need of high-capacity, reliable, and portable power solutions. Potential buyers can look forward to obtaining more information on pricing details from their respective OEM or ODM providers.
Conclusion
Pros
High capacity of 2,560Wh, expandable to 17.9kWh
Multiple charging options
Comprehensive output interfaces
Safety measures
Intelligent app control
Excellent real-life performance
Portable Design
Cons
Heavy
Limited solar input of 800W
App doesn't offer solar charging history
In conclusion, the CE-LINK 3,000W Power Station provides a versatile, reliable, and high-capacity power solution, perfect for outdoor enthusiasts, RV owners, and off-grid households. Its robust capabilities, combined with an array of safety features, expandability, and user-friendly controls, make it a highly sought-after product this year.
Disclosure: We might earn commission from qualifying purchases. The commission help keep the rest of my content free, so thank you!