When we talk about portable solar generators, especially those suitable for car camping, the ideal range often floats around the 500Wh-1,500Wh mark. The Allpowers S2000 comfortably lands at the higher end of this spectrum with its 1,500Wh capacity. But does it truly hold up to its promises, especially when you're out there, preparing your camp, and relying on it for power?
Box Contents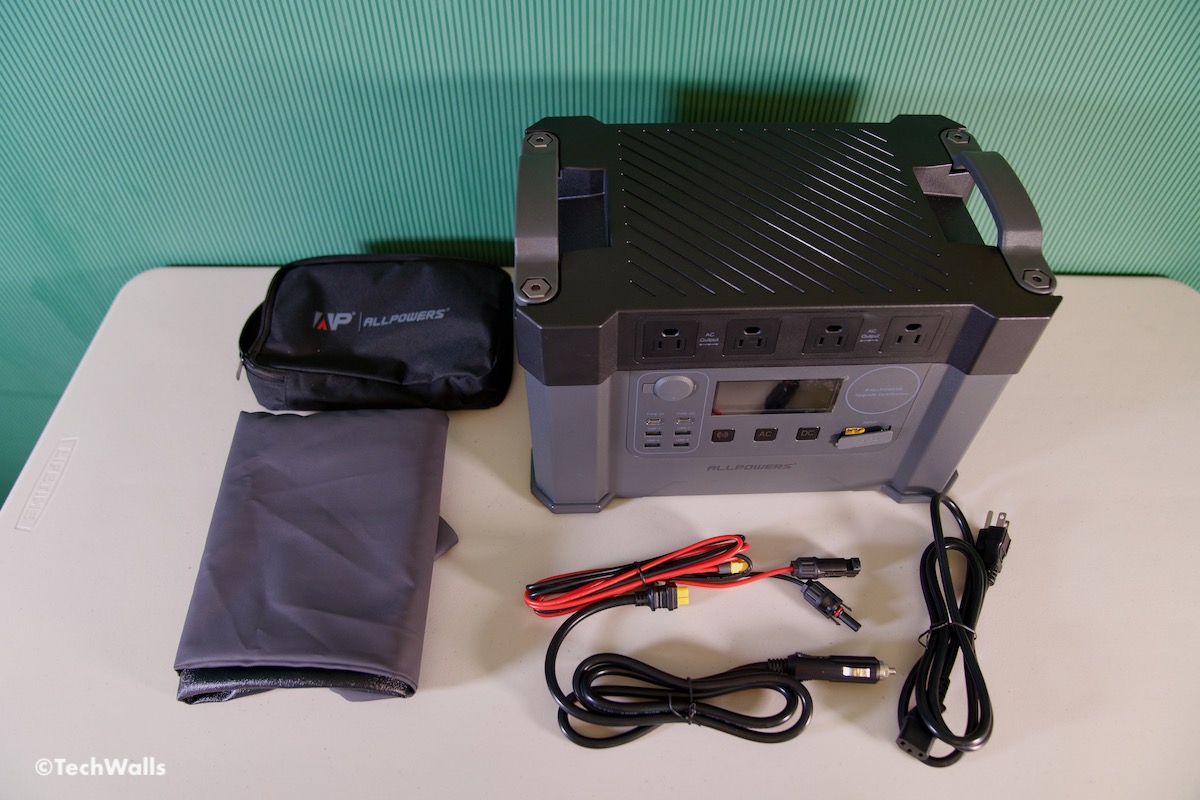 ALLPOWERS power station
AC charging cable
Car charging cable
Solar sable (MC4 to XT60)
Fabric cover
Specifications
Battery Capacity
1,500Wh (3.7V)
4* AC Output
Continuous: 2,000W, Surge: 4,000W
4* USB-A Output
USB1/USB3: 5V3.5A/9V2.5A/12V2A
USB2/USB4: 5V3.5A/9V2.5A/12V2A
USB1+USB3/USB2+USB4: 5V2.4A+5V2.4A
2* USB-C Output
5V-20V, 5A (PD 100W Max)
1* Car Output
13V/10A
AC Input
400W (100V-240V)
Solar Input
500W Max (12-70V, 18A Max)
Car Input
240W Max (12-24V)
Working Temperature
-20~45 ℃ / -4 ~113 ℉
Dimensions
375×245×250mm / 14.76×9.64×9.84in
Weight
14.5kg / 31.96lbs
Design & Build
The unit itself weighs nearly 32 pounds, and its portability is made even more convenient with built-in handles on two sides. Notice that the station doesn't have built-in light, so if you plan to use it for your upcoming camping trip, make sure to bring your own light.
I was genuinely taken aback by how polished and robust it felt right out of the box. Despite being fashioned primarily from plastic, the unit exudes a sense of durability and resilience that is essential for any outdoor gear. The flat top surface is not just aesthetically pleasing but functional, allowing users to conveniently place multiple phones for recharging. This is a thoughtful addition, although the absence of a wireless charging pad means you'll need to have your charging cables handy. Additionally, the strategic positioning of the four AC outlets on the top front ensures easy access. This design choice keeps cables from obstructing the display or other ports, making the usage experience seamless and hassle-free. The careful consideration of design elements reinforces the fact that Allpowers is attuned to the practical needs of its users.
Besides, there are 4 USB-A and 2 USB-C ports which are useful to recharge your phones and other gadgets. Notice that the USB-A ports are arranged in pairs, so you shouldn't use all of them at the same time when you need quick charging.
Display & App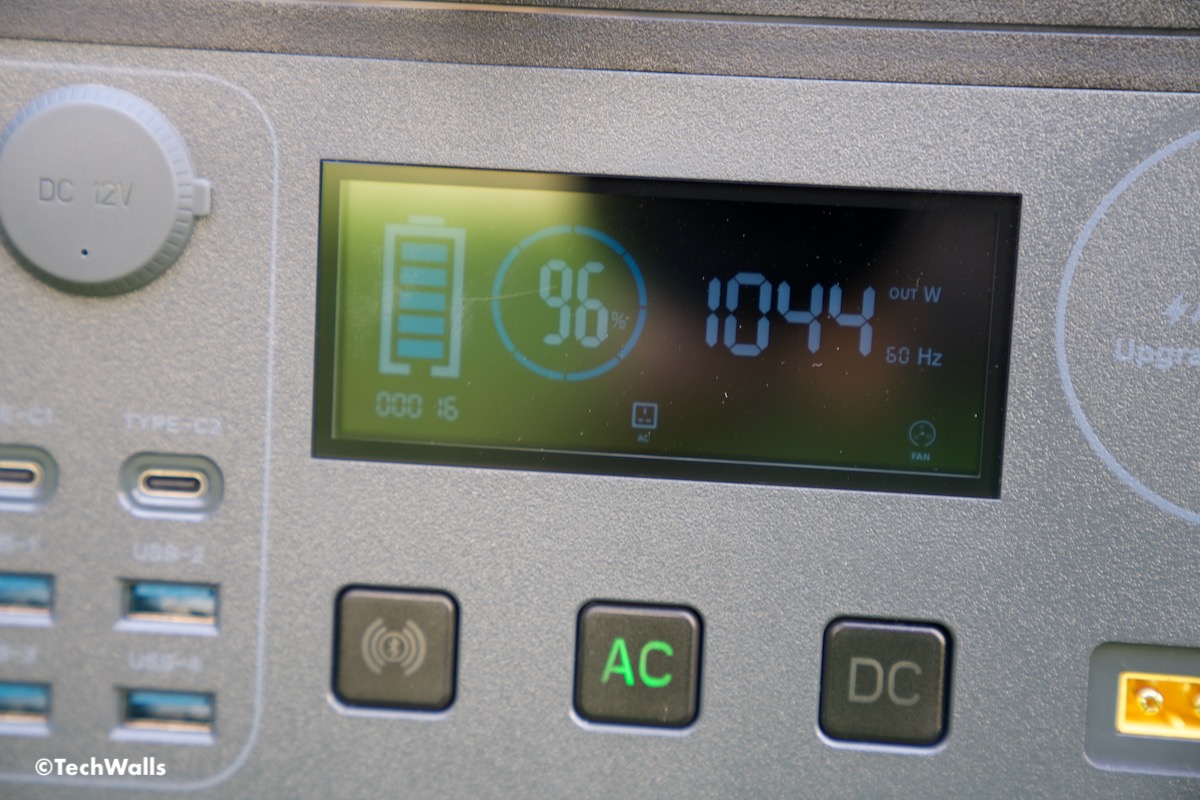 The heart of the Allpowers S2000 interface is its radiant display screen, which is ingeniously positioned amidst the various ports. This vibrant screen serves as the power station's dashboard, providing users with critical information at a glance. Key metrics such as the current draw or input/output, are crisply displayed. Furthermore, users can instantly discern the remaining battery life, both as a precise percentage and a more intuitive battery icon, ensuring you're always aware of how much juice you have left. To add to this, tiny yet noticeable icons pop up to indicate when the AC/DC or the cooling fan is in operation.
There is a "time remaining" indicator, presenting the estimated hours left based on the current power consumption. Unfortunately, the indicator is not accurate at all and you shouldn't rely on the remaining hours shown here.
The color palette of the screen is visually pleasing, with sharp contrasts of blue and white, ensuring the details are easy to see even at a glance. Even though the display boasts a bit of glossiness, its visibility remains uncompromised in challenging lighting conditions, including bright sunlight.
I also tried the ALLPOWERS app with this station but it doesn't provide any extra useful feature. I have to connect it to the power station via Bluetooth every time I need to use it. Basically, it just shows the same information as seen on the display. I can't make any change to the power station, except changing between 50Hz and 60Hz power.
Performance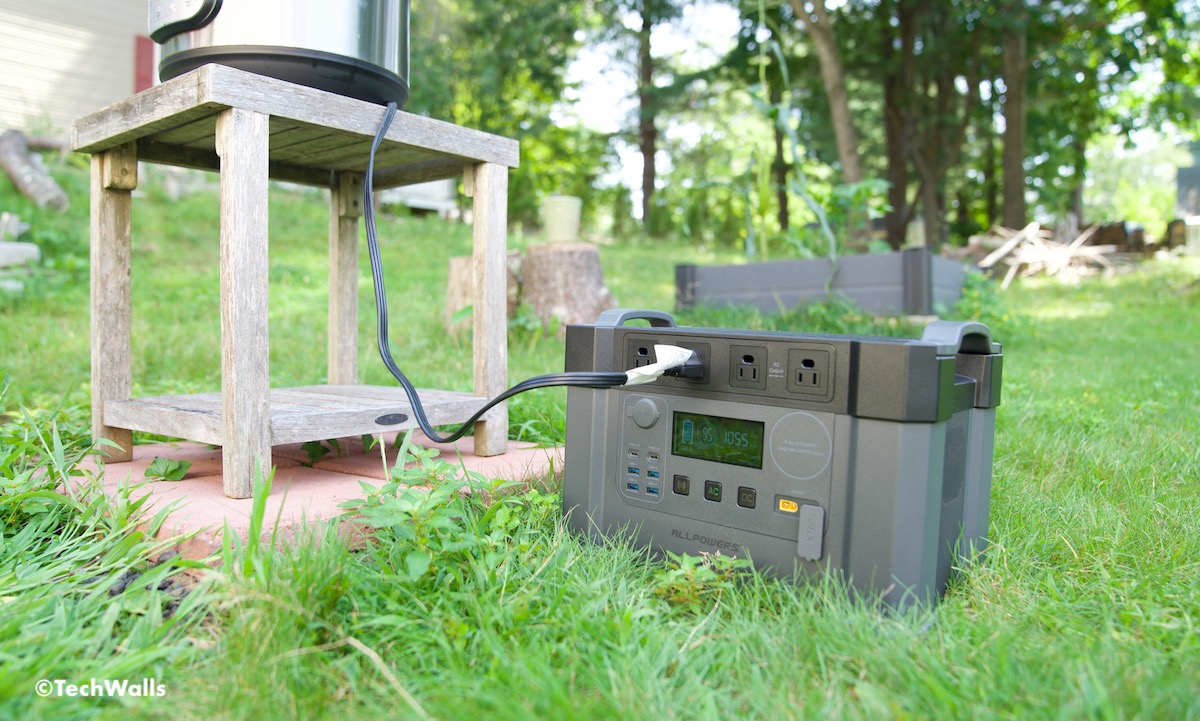 My experience with the Allpowers S2000 started on a high note. At first glance and during initial tests, the device seemed impeccable, aligning well with its specifications. However, as with many products, the true character shows under rigorous testing and varied conditions.
Where the S2000 truly shines is in its AC output. Managing to consistently deliver a staggering 2,000W, it effortlessly powered even my most demanding appliances. Whether it was my cooking gear or heavy-duty power tools, the S2000 stood resilient and offered stable power. Additionally, the USB ports exhibited excellent performance, consistently churning out power with an impressive efficiency that fluctuated between 80-90%.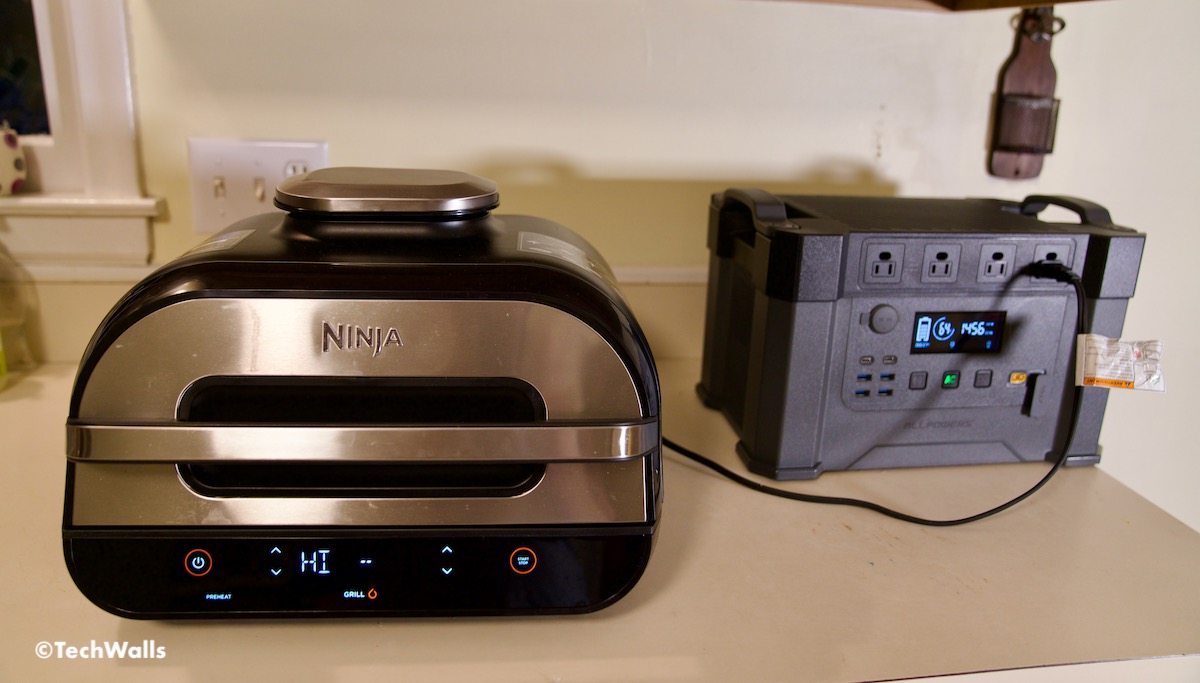 However, this brilliance dimmed a tad when it came to the AC ports. Pushing the unit with a near-maximum load of 1,500W saw it gasping for breath, with the battery depleting entirely within a mere 35 minutes. This strenuous condition brought the efficiency down to a somewhat disappointing 60%. But when the load lightened, powering smaller devices like my e-bike or home workstation, the efficiency showed some improvement, hovering closer to the 75% mark. While the S2000 exhibits commendable performance in various facets, it's evident that the AC port efficiency under high loads could benefit from further refinement.
Solar Charging
While the S2000 offers versatility in charging methods, with options to power up via AC or vehicle inputs, its solar charging capability is what piqued my interest. Particularly for those keen on harnessing solar energy during outdoor excursions, this feature should be invaluable. Eager to test this out, I paired the power station with both my personal set of solar panels and the dedicated ALLPOWERS SP033 200W panels.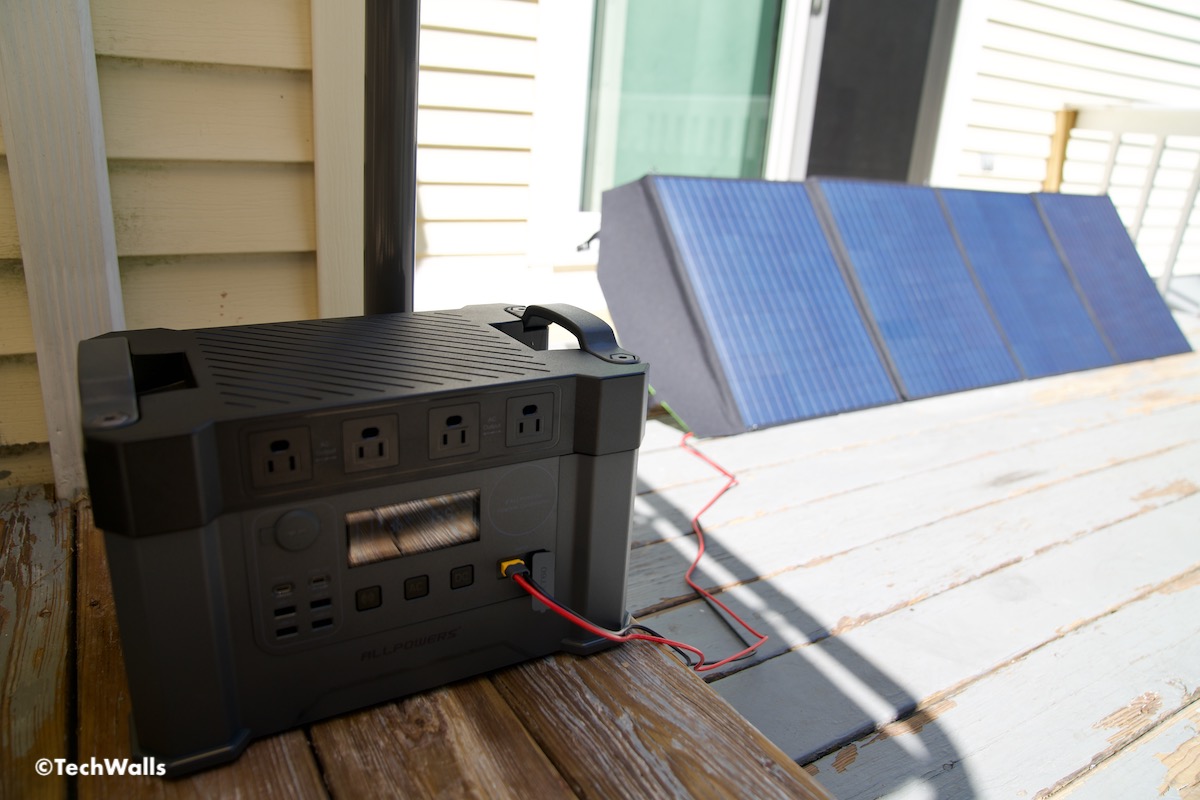 However, my excitement was quickly tempered with issues I didn't anticipate. Despite past experiences with solar charging on other power stations being seamless, with the S2000, I encountered unexpected drop-offs in solar input. What baffled me further was that these drop-offs happened even on the clearest of days, with the sun shining bright. While the quick-fix involved re-plugging the XT60 cable, which would momentarily resolve the issue, the reliability was still questionable, as I never quite knew when it would recur.
Seeking answers, I reached out to ALLPOWERS. Their R&D team's explanation pointed to an MPPT procedure glitch: "This is an MPPT procedure issue. Because of the continuous detection of the charging low voltage state, it has entered the protection state. So It needs to be replugged and activated when it is used again later". While they assured me that they're actively addressing the issue, it was certainly a letdown. My past experiences with other power stations hadn't flagged such a concern, and it's a tad unsettling to see this in a product from a brand like ALLPOWERS.
Verdict
Pros
Robust and sturdy build, ensuring it can withstand regular use and minor mishaps.
Convenient Port Placement
Vibrant Display
Robust AC Output: Maintain a 2,000W output for extended periods
Efficient USB Ports
Cons
Low Efficiency of AC Ports
Solar Charging Issues
The Allpowers S2000 is currently priced at around $900 brand new, breaking this down to a cost of $0.60/Wh. I've seen some like-new units selling for just over $600. It is not the cheapest unit available at this capacity but it is still fairly affordable. It comes across as a mixed bag. Its affordability and impressive power output make it an appealing choice for those on a budget. On the flip side, its inefficiencies in AC power and solar charging issue might leave some users wanting more.
Disclosure: We might earn commission from qualifying purchases. The commission help keep the rest of my content free, so thank you!